Just when I think I've got printmaking (and writing) figured out, I get a curveball. I usually do Relief printmaking but decided to try something new, drypoint etching. Instead of using linoleum block or wood to carve out a design and print it, drypoint is an intaglio method. This means you etch your drawing into the plate, the lines create a burr that holds ink, you wipe the ink off the plate, (it stays in the grooves) then print with damp paper over the plate, in an etching press which squeezes the paper into the lines and picks up the ink to reveal your etched drawing.
Printmaking makes me think. Usually about writing.
If you look at the Jackrabbit at the top of the page, he's a test print. (Color on the photo doesn't do him justice.) I got the drypoint image I want. I like him. But as I look closer, I see I wiped the ink away a little too hard in the grass. It's barely there. I also would like more tone on the rabbit himself. Again, I wiped away too much ink. A shadow of ink here and there, soft wiped, would give the image more depth. It's fuzzier than I want. So I have more work to do on Mr. Jackrabbit.
The Lemon print below was also a test run. I usually don't do still life. But I wanted a test print to learn how to get better areas of tone, and use different plastic material. The spot under the lemon was made by using sandpaper to scratch the plate. I like the tone. Crosshatching made the leaf darker. I don't like the glaring white spot on the cut lemon, so I'll likely scratch some lines in there to break it up. The backside of the whole lemon is a tad fuzzy. A little less damp paper.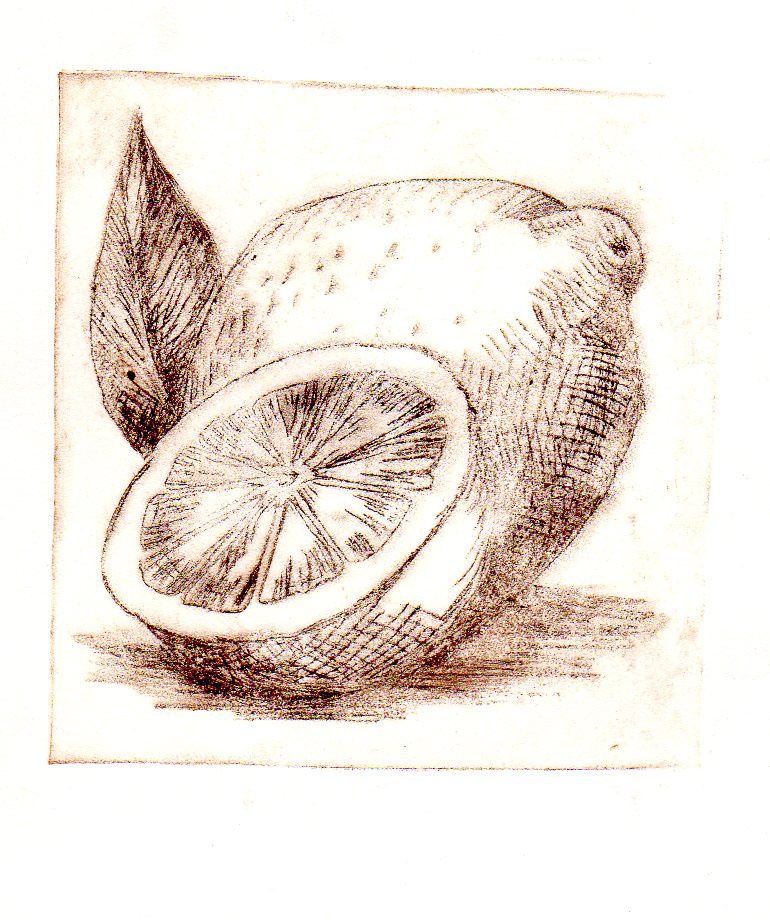 A world of difference from how I learned. Etching in college consisted of copper or zinc plates, which you covered with an acid-resistant ground on front and back, (usually varnish) and then you drew into the ground down to the metal with an etching needle. After that was the dangerous part. The not-so-healthy part. Suffering for art is a thing.
You drop your metal plate in an acid bath—could be ferric chloride solution and some citric acid powder and water—then you let it sit in the solution until the acid ate away at the scratches you made in the plate. Depth of scratches equals time in acid bath.
Acid bath. I shudder now to think of being around toxic substances in a hopefully ventilated area with gloves and goggles and apron and trying not to splash and end up in the ER… The nice thing about the drypoint prints I'm doing now is it's done on a thin Plexiglas plate. Just like the ones that come in picture frames now instead of glass. It's light, it scratches easily, and you can go back and make darker areas if need be after a test print. Etch your design, dust off, ink, and print. How easy is that? No standing over a bubbling cauldron of acid bath like some demented sorcerer.
Of course, a new method has its own drawbacks. I have to learn how damp is damp enough for the paper. Too dry and the ink won't transfer. Too wet and the image is fuzzy. Ink consistency. Relief printing is done on dry paper. I like that. For every drypoint image I pull I like there may be a couple of duds. Things are coming along. Overall, I'm pleased with my test prints. I tried something new, succeeded and failed, and encouraged myself enough to continue.
Just like writing.
It gets better with practice, but it also gets better when you get rid of the acid baths in your writing life. Toxic people, negativity from others or self, reading too many how-to books, and becoming immobilized by too many options. It took me a long time to figure out I like my printmaking method. Take the parts that work, explore options, then discard what doesn't work for you. Do what interests you. Please yourself first.
Use drafts as fine-tuning to see if it needs more something. Or that something needs to be wiped away. The best process is your process. Confidence comes just like in printmaking, trial, and error. No one has to know your edition of 10 prints was supposed to be an edition of 20. Forward motion, no matter how small, is always assurance you can do it. Who doesn't need more of that?
Drypoint Tools:
.04 mm Plexiglas plate for Jackrabbit
Cut down plastic top of salad container for Lemon.
Twisted etching needle
Caligo Safewash Etching Ink, Burnt Umber
Stonehenge printmaking paper
Etching press
Stray cat hair courtesy of Lorenzo
Links to Printmaking Explanations
Tate Museum Drypoint and Intaglio
Links to My Other Posts on Different Creative Processes
Using Weaving for Bursts of Writing Creativity
A Meditation on Walking and Writing